Here is a list of barbells that are designed for powerlifting as well as Olympic lifts. These are both versatile and affordable. They are what the casual lifters want to have for their gyms.
So, review their features here and choose for yourself the best barbell for the home gym.
Just because the mentioned barbells are not specified for a certain type of lift doesn't mean that their quality suffers. Each of these barbells is manufactured with great attention to detail, from the variable knurling depths to the finish type.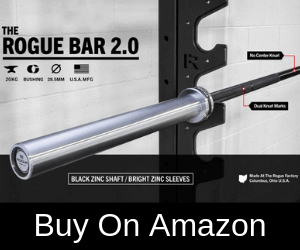 Highlights
7-foot bar
Color: black zinc
Bushing on the sleeves
Key features
Aesthetically sleek
Dual knurl marks
No center knurling
Olympic style knurling
Reasonable price
Made in the USA
Has a lifetime warranty
Bottom line
The barbell is version 2.0 which can be seen in its quality and design detail. It looks very sleek looking and is tested to the highest standard. It will be perfect for all sorts of strength exercises. It is also the best barbell 2020.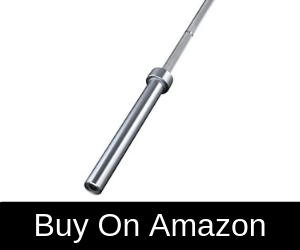 Highlights
15 Kg and 20 Kg models
Hard chrome sleeves
Designed for functional fitness
Bushing sleeves
Key features
Made in San Diego
Dual knurling on the black bar
Shiny chrome sleeves
Suitable for Olympic lifting
Bottom line
This California bar is similar to the rogue barbell. It is well-designed with high whip factor. It is ideal for heavy lifters. This barbell is an optimal choice for people who plan to make use of it in a tough, functional workout, such as CrossFit.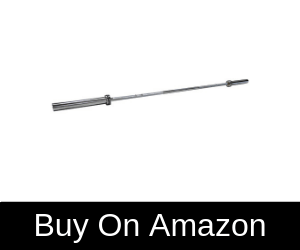 Highlights
All-purpose barbell
For female athletes
Weighs 33 pounds
Bright chrome finish
No center knurl
Key features
Same specifications as Rogue Ohio Bar
Weighs 5 Kilos less than Rogue Ohio Bar
Suitable for intense CrossFit sessions, powerlifting, and Olympic exercises
Bottom line
This barbell has received dozens of excellent reviews from a wide range of gym owners and other customers. It is masterfully crafted and looks great. It is highly affordable as compared to other barbells available on the market.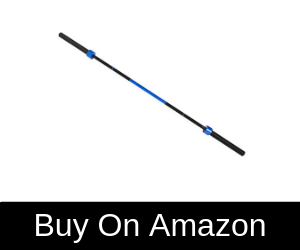 Highlights
Friction welded sleeves
Tested to 205,000 psi
Bright zinc sleeves and black zinc shaft
Key features
Suitable for the heaviest workouts
Higher quality
More expensive than others
Center knurls
Higher psi
Friction welded sleeves
Multi-purpose barbell
Bottom line
This 20 Kg barbell has a number of nuanced advantages which will be appreciated by hardcore bodybuilders. Its aggressively engraved center knurls will be suitable for people who have a lot of squats incorporated in their routine.
For people who need a bar that is even stronger than several other great powerlifting bars and doesn't have a care for the extra cost, this 20 Kg Rogue Ohio Bar maybe right for them.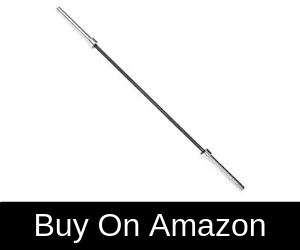 Highlights
Bronze sintered bushings
Bare steel which consistent-prevention
Medium depth powerlifting and dual knurling
Key features
Improved old school barbell
Formerly by York
Bare steel
High PSI rating that is 205,000
Fair price
Bottom line
This bar is bare steel so your living environment will certainly be a major concern. Humidity will rust in a rather quick fashion unless you are regularly brushing it with oil.
Otherwise, this bar is quite well crafted in all aspects and brings back a lot of memories of gyms from the past decade. That said, this barbell does not have a lifetime warranty, so only buy it if you have the intention of doing proper maintenance for the prevention of rust.
Highlights
Passive center knurling
190,000 PSI
Designed by CrossFit
Key features
Has the personal touches of Matt Chan
Tampered down knurling to avoid back and chest irritation during squats
Excellent for bench pressing
Fine-tuned for the requirements of CrossFit athletes
Bottom line
This barbell is pricier than other similar bars, but is comparatively more detailed. It will certainly have a special value among a CrossFit community. It has several unique specifications which make it a great purchase for people who are very much into CrossFit and need a barbell, for their home gym, with passive center knurls.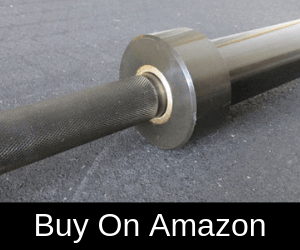 Highlights
Tensile strength is 205,000 PSI
Weight capacity is 1600 pounds
Medium knurling
Black-zinc color available
Key features
Excellent beginners bar
One of the least expensive barbell
Has a stiff whip
Medium, dual depth knurling
High quality
Excellent price
Bottom line
For people who have price as a top concern, you will be hard-pressed to search and find a high-quality, solid bar that is meant for multi-purpose use and has a low price. Many barbells of similar quality cost well over the price of OFW Wonder Bar 2, so for this barbell, the price very much sticks out, especially if you don't have a problem with its stiffness.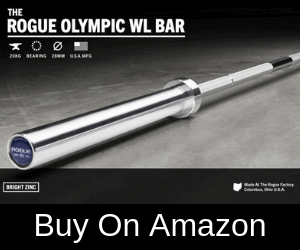 Highlights
5 variations
Colors available are polished chrome or bright zinc
Center knurling available
Olympic barbell
Key features
Has a perfect amount of whip
Customizable in terms of finish and center knurl
Has complete specifications for Olympic weightlifting
Only barbell needed for a competition
Lifetime warranty
Expensive
Bottom line
This a top-quality Olympic bar which is customizable in 5 different ways. This Rogue Olympic WL Barbell boasts a superb whip, excellent bearing, and the perfect knurling in all the suitable places. If you are hesitant dropping more than 500 dollars on an Olympic barbell, know that rogue offers a lifetime warranty of this barbell. This will make it easier for you to make a decision.
Highlights
Tensile strength 215,000
Manufactured from European steel
Ten quality needle bearing sets
Key features
Rigorously tested
Superior whip
Above average tensile strength
Both Olympic and center knurling
Medium depth knurling
Made of top-tier European steel
Spin, strength, and whip values have been tested
Verified to world's top standards
Lifetime warranty
Bottom line
This barbell is possibly the very best on the market. The Rogue "Euro" 28 mm Olympic WL Bar goes through the strictest testing to make sure it meets the IWF-standards. It offers free shipping and a lifetime warranty. It also has a polish chrome finish. This Euro barbell is arguably the best barbell with the highest quality that you can have for less than 700 dollars.
Highlights
Meets IWF specifications
Black oxide finish
200,000 PSI tensile strength
Key features
Developed with an exclusive technique
High levels of strength
Meets all the standards for an Olympic competition
Highest quality cross training bar
Center knurl
Suitable for hardcore competition
Bottom line
Whether you want a high-quality barbell for competitions or for some shine in your home gym, the Ivanko OB-20KG Olympic Bar is just right for you. It is strong and levels up to IWF standards. It is both X-ray and ultra-sonic tested and surely has what it takes to endure decades of tough workout practices.
Unlike a few other Olympic bars available on the market, Ivanko OB-20KG Olympic Bar is both multi-purpose and top-quality, as it proves perfect for casual training and Olympic competition.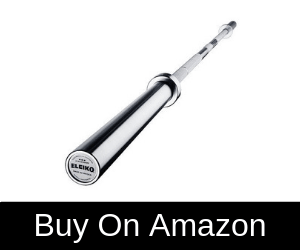 Highlights
215,000 PSI tensile strength
10 precision bearings
Manufactured with Swedish steel
Key features
An Olympic bar
Numerous World record setter
Uses proprietary design methods
Top-quality all-around
Most expensive
10-year warranty from Eleiko
Bottom line
In comparison with other highest quality barbells available on the market, the Eleiko Sports Training Bar – 15 and 20 kg is more costly than most. It is known for its incredible excellence as well as its meticulous building process.
Its combination of grip, spin, and whip develops a unique feeling which is specific to the designs created by Eleiko. Its price is about 200 dollars more than the comparable Olympic bars. The Eleiko Sports Training Bar – 15 and 20 kg would surely be a choice for the absolute best.
Highlights
86.6 inches barbell length
Weight capacity is 1000 pounds
Black phosphate finish
Key features
Strong and affordable
Suitable for heavy lifting
Rather than caps, features snap rings
Medium depth diamond knurling
No center knurling
Grooved sleeves to prevent plates' slippage
Low price
One of the least expensive barbell
Bottom line
While its 1000 pound weight lifting capacity is less than several powerlifting bars, the cost too is significantly lower. Ultimately, if your plan is doing bench presses, squats, and other workouts on a barbell with weight less than 1000 pounds, then with its low price, the CAP OB-86B Power Bar is an excellent choice.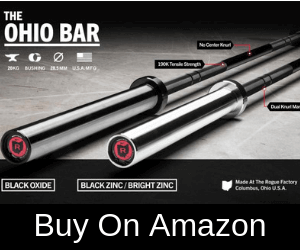 Highlights
Corrosion resistant
Bronze bushing
Stainless steel
Key features
Made in the USA
Expensive
Offers the feel of a raw steel bar
Knurling same as Rogue bar 2.0 and Ohio Bar
No coating applied after knurl cutting
Bottom line
This American barbell is made with stainless steel and offers the industry's best warranty. It is also corrosion resistant and gives the feeling of raw steel. Since it doesn't have a coating applied to it, it feels more aggressive in your hands. These barbells made according to the American Health Association for fitness and healthy life.
Highlights
Black-zinc coated sleeves
Slightly smaller shaft
Tensile strength 205,000 PSI
Bronze bushing
Key features
Features the best end caps
Well-constructed
Low price
Stiff whip
28 mm shaft diameter
Bottom line
This barbell is well-constructed but it is not better than Rogue Bar 2.0. it has high tensile strength but its shaft diameter is less than the standard diameter, which is 28.5 mm, used for Olympic weightlifting. Its whip is also stiff.
Infographic

FAQs