Veteran 212 star Kamal Elgargni has his sights set on conquering the revived Masters Olympia competition this weekend. At 51 years old, Kamal Elgargni sports phenomenal conditioning just days out from the show in Romania.
His latest progress photos reveal a physique poised to dominate the Masters stage.
Originally from Libya, Kamal Elgargni moved to the USA and eventually became one of the world's top 212 bodybuilders.
He earned his pro card by winning the overall title at the 2018 Arnold Classic.
The following year, Kamal Elgargni achieved his ultimate dream of capturing the 2019 Olympia 212 crown.
Although he placed 2nd and 3rd in subsequent 212 Olympia contests, Kamal Elgargni continued displaying incredible shape and lines year after year.
The Master of Aesthetics shifted focus to the Open division in 2022.
After notching several impressive placings, he now returns to the 212 class for a new challenge – the 2023 Masters Olympia.
Kamal Elgargni Shares Shredded Physique Update
Just days before he competes, Kamal Elgargni provided fans with a glimpse of his phenomenal progress. In a front relaxed pose, he displays paper-thin skin and striations covering every muscle.
Kamal Elgargni's abdominals and serratus muscles pop through in high definition.
Up top, his full chest and huge arms are crisply etched while maintaining an ideal shape. Kamal Elgargni's quads, calves, and hamstrings all exhibit clear separation and details most athletes decades younger couldn't match.
At 51, he has crafted a stunning physique truly built to last.
Kamal Elgargni's balance of ideal muscle size, flawless lines, and granite hardness reflect his experience mastering contest prep over many years.
Peaking for the Masters Olympia, Kamal Elgargni reminds fans his abilities remain elite against any competition. His physique update epitomizes timeless aesthetic excellence.
First held in 1994 under Joe Weider's leadership, the Masters Olympia gave veteran bodybuilders over 40 years old a prestigious stage to showcase their talents.
Legends like Vince Taylor, Robby Robinson, and Sonny Schmidt helped establish the Masters as a revered title.
However, the IFBB canceled the Masters Olympia after 2012 until reviving it again for 2022. This year, the Masters returns as part of the Festival Del Sole Pro in Romania.
Kamal Elgargni will battle other aged but spectacular physiques like Toney Freeman and Guy Cisternino for the coveted crown.
Much like 212 Titan Flex Lewis, who recently announced a comeback for the 2023 Arnold Classic, Kamal Elgargni continues performing at the highest levels well into his 50s through diligent training and nutrition.
A Masters Olympia victory would be another crowning achievement for his bodybuilding legacy.
Balancing Open and 212 Divisions
Interestingly, Kamal Elgargni plans to compete in both the Masters and regular Olympia events this year.
He qualified for the 2023 Olympia by placing 9th in the Open division at the 2023 Arnold Classic back in March.
The Open provides a bigger platform for exposure, but 212 is where Kamal Elgargni built his reputation.
Returning to his preferred weight class for Masters, watch for Kamal Elgargni to display more dazzling aesthetics and comfort on stage.
He has the ideal structure and lines to conquer the division once again.
At 51 years old, Kamal Elgargni maintains the work ethic and motivation of athletes half his age.
He continues pushing his physique because excellence, not numbers, drives him. Kamal Elgargni lets his timeless, inspiring journey motivate others that age and limits are self-imposed.
Outlook in Romania
Based on his extraordinary level of conditioning weeks out, Kamal Elgargni seems destined for another peak performance.
His physique flows seamlessly from muscle to muscle with ideal roundness and separation. Simply put, Kamal Elgargni looks like the complete package.
Against tough veteran competition, Kamal Elgargni is a strong favorite to earn Masters Olympia hardware.
He combines the experience and skill of older age with the relentless drive of youth still burning within.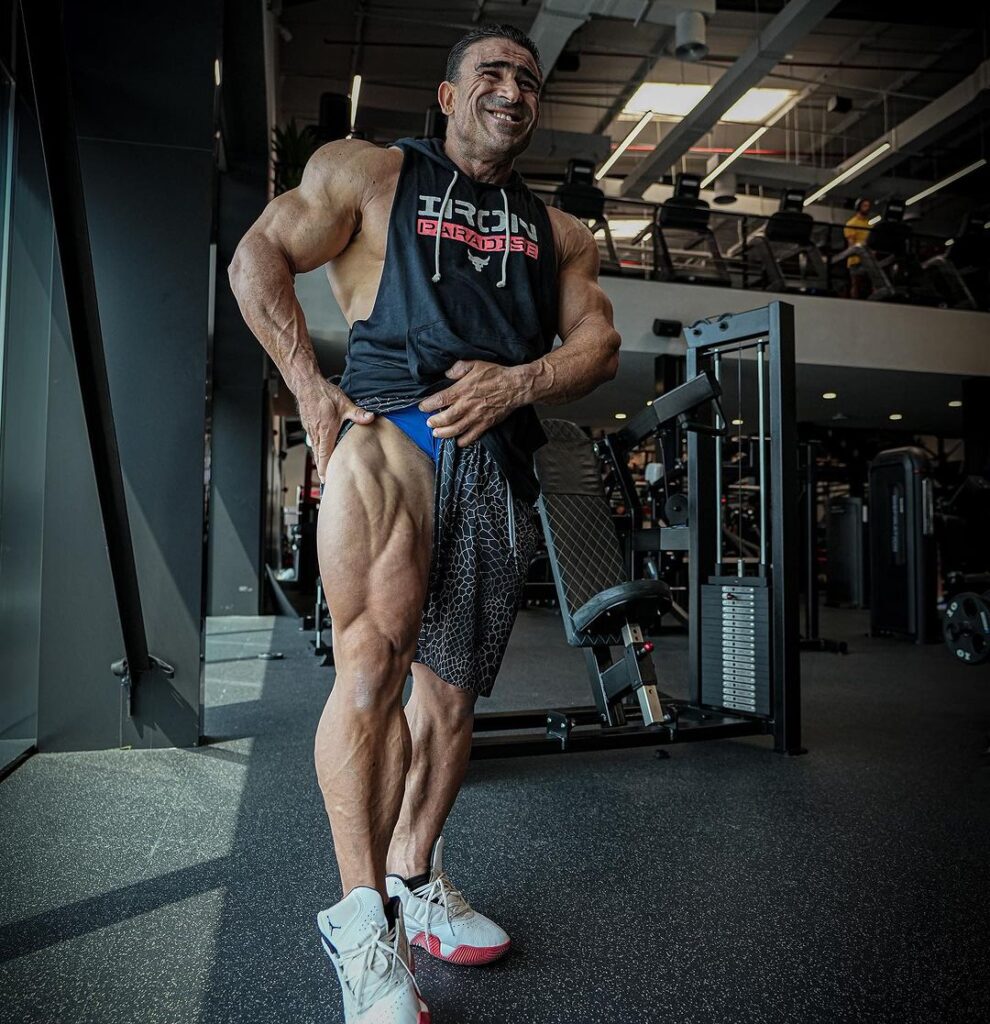 If he brings this phenomenal look to the stage, Kamal Elgargni should remind fans worldwide of his greatness once again.
At 212 and beyond, "The Master of Aesthetics" has shown time and again that his abilities warrant the lofty nickname.
By conquering the Masters Olympia and qualifying for two 2023 Olympia events, the ageless Kamal Elgargni continues adding to his unmatched bodybuilding legacy. 
This weekend, he can provide more evidence that some legends truly age like fine wine.