At 45 years old, Enrico Magnani possesses one of the most impressive and massive physiques in bodybuilding today. This Italian muscle daddy combines huge mass with flowing lines and shapely muscle bellies.
With his iconic beard and intimidating presence, Magnani has built a reputation as a larger-than-life figure and social media sensation.
Hailing from Italy, Enrico Magnani found his passion for bodybuilding relatively late compared to most pros. He competed locally before exploding onto the global scene in his 40s.
Magnani debuted as a pro in 2019 and immediately made an impact with his enormous yet aesthetic frame.
Standing 5'9″ and weighing around 245 pounds, Magnani carries extraordinary size for a classic physique competitor. 
However, he maintains aesthetically pleasing lines and proportions. Along with his signature beard, Magnani's mythic dimensions help him stand out in a crowded field.
At 45 years old, Magnani displays a level of muscular maturity far beyond his age. His granite hardness and deeply etched cuts resemble athletes 20 years younger. 
Magnani proves that with smart training and nutrition, one can continue improving well into their peak years. He shows no signs of slowing down.
Competitive Accolades
Although a relatively new face professionally, Enrico Magnani has already amassed an impressive list of accolades:
2019 IFBB Diamond Cup Pro – 1st Place
2019 Arnold Classic Brazil – 5th Place
2019 Ferrigno Legacy Pro – 1st Place
2019 Legion Sports Fest Pro – 2nd Place
2019 Istanbul Pro – 3rd Place
2020 Arnold Classic Brazil – 3rd Place
Magnani's pro debut was an emphatic one, as he dominated the Diamond Cup competition.
He followed it up with several top 5 placings at prestigious international events.
In just a short time as an IFBB pro, Magnani has proven he deserves to be mentioned among the world's best classic physique athletes.
Huge Yet Balanced Physique
Enrico Magnani packs some of the biggest arm and chest measurements in the sport on his 5'9″ frame:
| | |
| --- | --- |
| Enrico Magnani Arms | 22 Inches |
| Enrico Magnani Ches | 54 Inches |
| Enrico Magnani Quads | 30 Inches |
| Enrico Magnani Calves: | 20 Inches |
| Enrico Magnani Age | 45 Years |
| Enrico Magnani Height | 5 feet and 9 Inches |
| Enrico Magnani Weight | 110 kg |
However, he maintains classic lines and aesthetics. Magnani's shoulders and arms flow seamlessly into his lats and taper down to a tight waist. His quads and hamstrings are mammoth yet proportional. 
Even at 250+ pounds, his physique displays balance rather than disproportionate mass.
Magnani's extensive tattoo work accentuates his muscularity and physique flow even further.
Overall, he exhibits larger and grainier muscle bellies than most classic competitors without compromising symmetry.
His shape, density, and sheer size make Magnani's physique both impressive and inspiring.
Training and Nutrition Philosophy
To support his substantial bulk, Magnani trains with extremely high volume and intensity.
He completes long, demanding workouts targeting each muscle from multiple angles.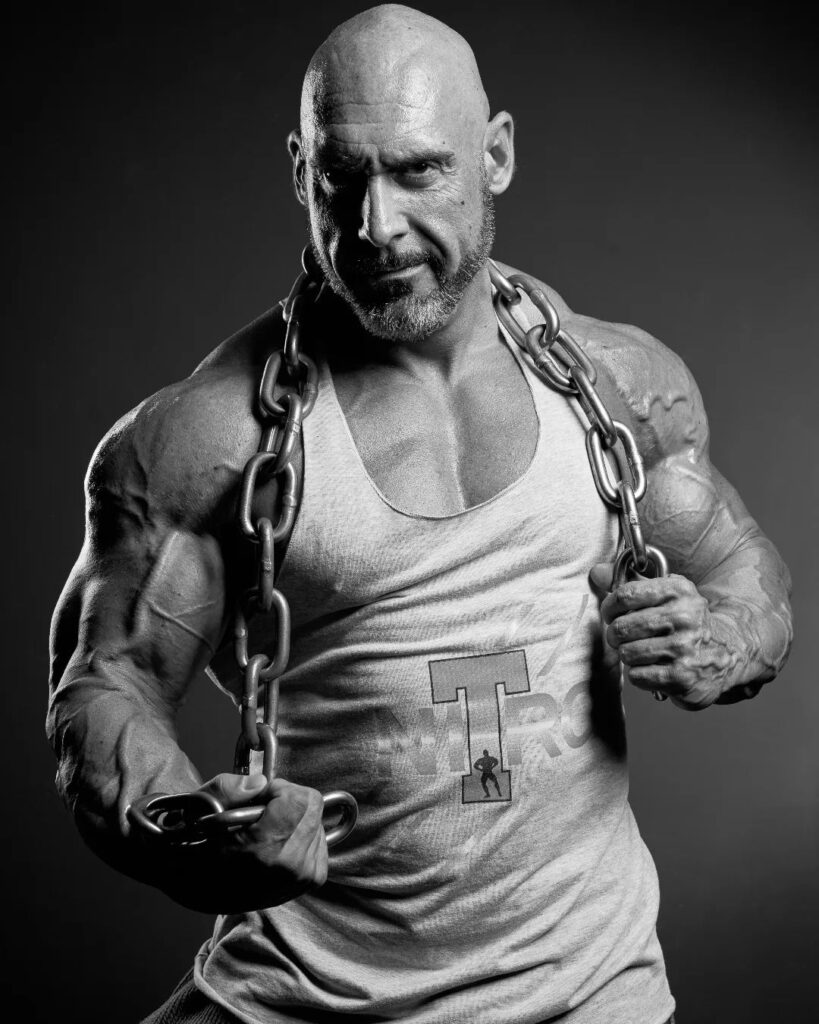 Magnani utilizes techniques like drop sets, super sets, partial reps, and negatives to push intensity.
His nutritional diet provides sufficient protein and healthy fats to fuel recovery while limiting sugars and processed foods.
Meals focus on lean proteins, vegetables, and complex carbs. Magnani also uses targeted supplements and an intense cardio regimen to maintain single-digit body fat year-round.
With his imposing appearance and social media presence, Enrico Magnani has become a celebrity among bodybuilding and strength communities.
His Instagram boasts 335,000 dedicated followers and counting.
Fans can't get enough of Magnani's motivational workout clips, physique updates, and inspirational messages.
As an athlete who built an elite physique after age 40, Magnani serves as a role model for the importance of consistency and work ethic.
Despite his intimidating look, he is regarded as approachable and down-to-earth by fans.
Many aspire to emulate Magnani's dedication to continuous self-improvement in training and life.
The Future Remains Bright
Even in a division filled with phenomenal talents, Enrico Magnani remains a rising threat to capture a big pro title soon.
His structural gifts, deeply forged muscle maturity, and immense yet balanced size make him a serious contender. Magnani has already accomplished more than most do in a full career.
However, Magnani continues pushing his physique while inspiring new fans worldwide.
As he approaches 50 years old, Magnani refuses to slow down while making the most of his prime years.
With a blue-collar mindset rooted in his working-class Italian background, expect Enrico Magnani's best to be yet to come.