Mumbai Pro Show 2022 took place on 28-30 October at the Bombay Exhibition center, Mumbai. Mumbai Pro Show is an IFBB Pro Show based on Olympia world's most prestigious bodybuilding competition.
The International Health Sports & Fitness Festival (IHFF) will provide countless opportunities for creating a better career for the bodybuilders of India. Catering to various classes of age, capability, and strength, IHFF will draw bodybuilders, fitness enthusiasts, businesses, and viewers worldwide.
Mumbai Pro Show 2022 is sure to motivate and inspire people. This show will provide the perfect landscape for individuals of all ages to celebrate strength, power, and health.
Three pro bodybuilding divisions for men will step onto the stage of the Mumbai Pro Show to compete for Prizes.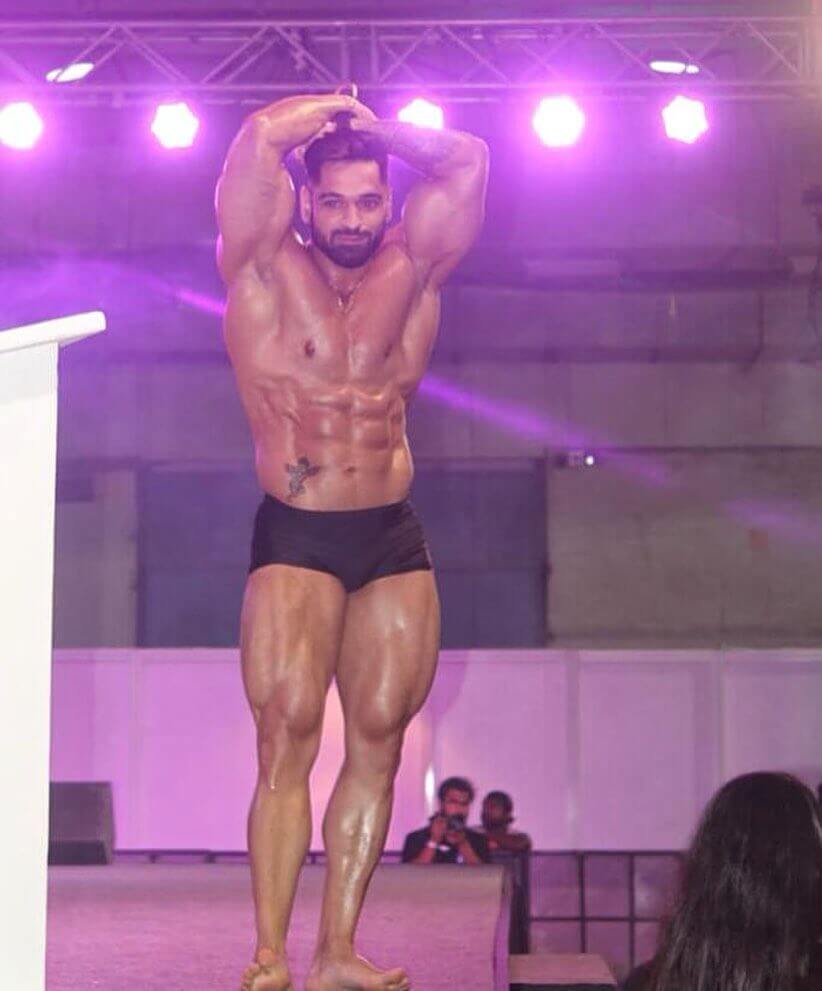 Men's Open Bodybuilding
Men's Physique
Men's Classic Physique
Last week, Michael Daboul won the Dubai Pro Show in the Men's Classic Physique Division.
Competitors List
Men's 212 Bodybuilding
Mahesh Kumar
Richard A. Morilla
Rumi Penaflor
Samir Troudi
Men's Physique
Nishant Bansal
Bhuwan Chauhan
Karim Asmat
Dilip Kumar
Ajith Raja
RAnveet Singh
Mimoh Yuvraj
Junaid Kaliwala
Imran Khan
Paj Kumar Paswan
Yashar Anbari
Pankaj Gajwani
Men's Classic Physique
Piyush Rajput
Shanti Mitchell
Benjamin
Sandip Rajbanshi
Manoj S
Dimitri Vorotyntsev
Rajesh Yadav
Mumbai Pro Show 2022 Results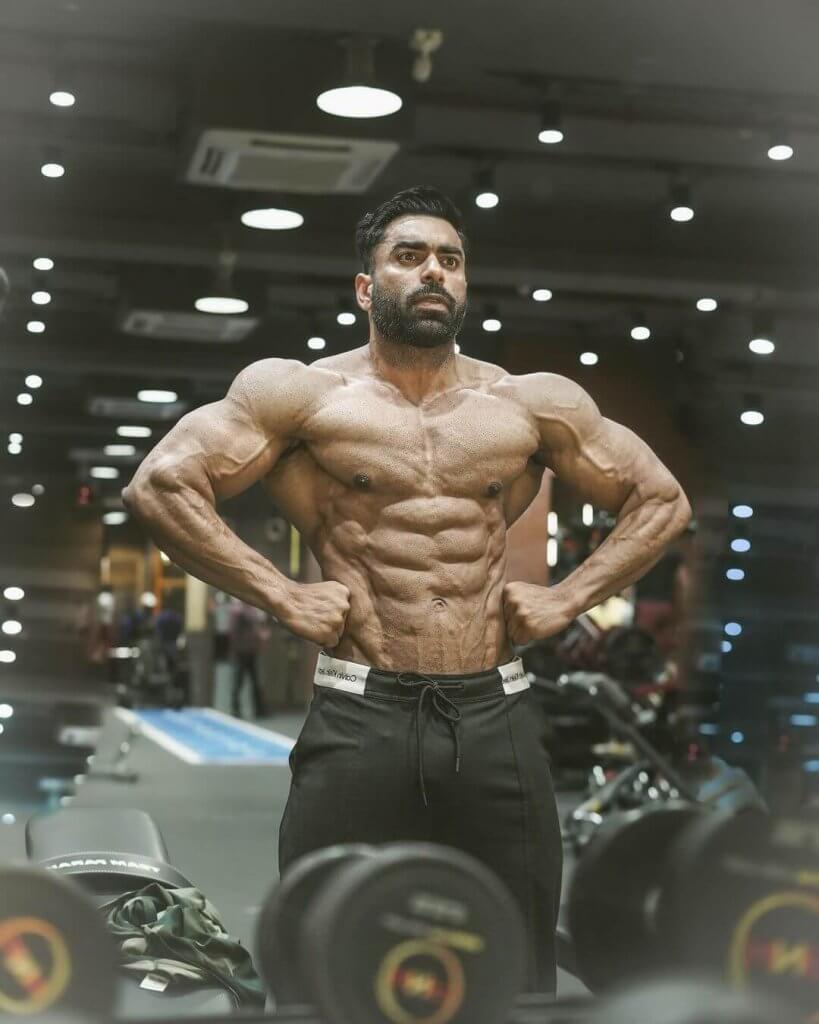 Here are the complete Results of the following Divisions.
Men's Open Bodybuilding Results
The Montagne wins the Open Bodybuilding title at the IHFF Amateur Olympia India.
Asmawi Zolfifli, Abhilash Manakkam, and Munusamh R win IFBB Pro Cards in Men's Bodybuilding Category at the Sheru Classic Mumbai.
212 Men's Bodybuilding Results
Hameed Juma Ebrahim won the Sheru Classic Pro Mumbai in the 212 Division.
Hameed Juma
Sunit Jadhav
Asmawi Zolkifil
Samir Troudi
Rami Penaflor
Men's Physique Results
Bhuwan Chauhan is the overall winner in the Men's Physique Division at the Sheru Classic Mumbai Pro.
Bhuwan Chauhan
Imran Khan
Raj Kumar Paswan
Dilip Kumar
Nishant Bansal
Siddhant Jaiswal won his IFBB Pro Card in the Men's Physique Division at the Sheru Classic Pro Mumbai.
Men's Classic Physique Results
Abdullah Alsairafi is the winner of the Classic Physique Category at the 2022 Sheru Classic Pro (Mumbai Pro Show).
Abdullah Alsairafi
Manoj Sarangpani
Dimirtii Vorotyntsev
Deepak Nanda
Rajesh Yadav
Sheru Classic Mumbai India Scorecards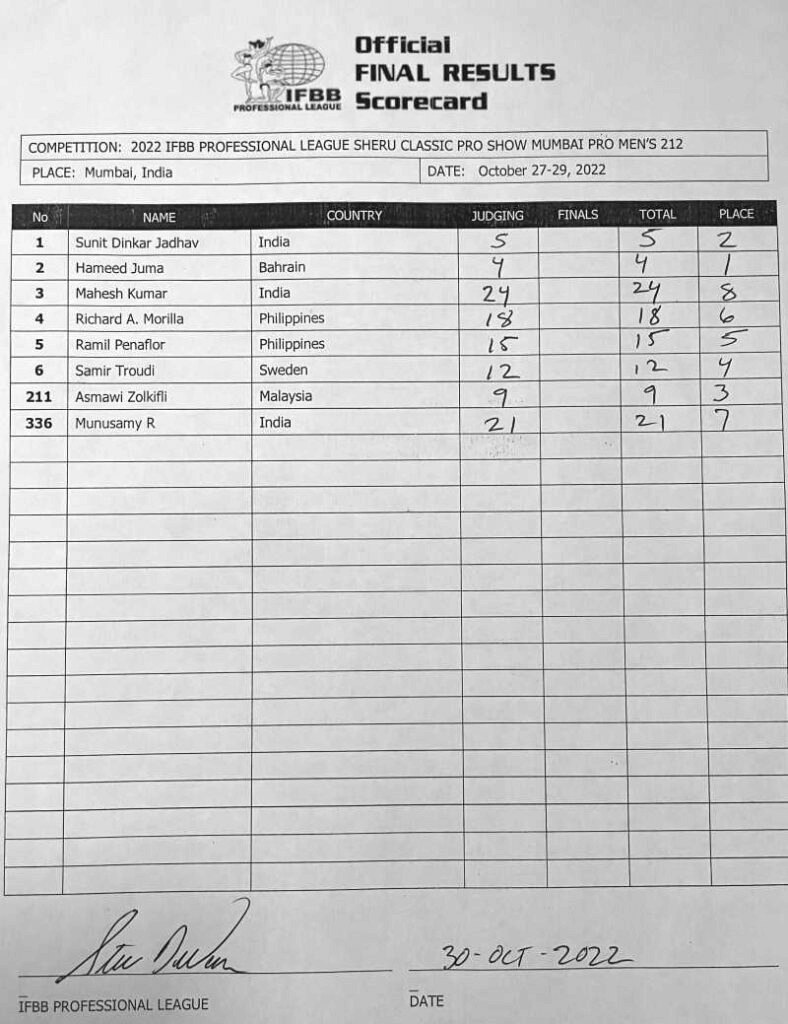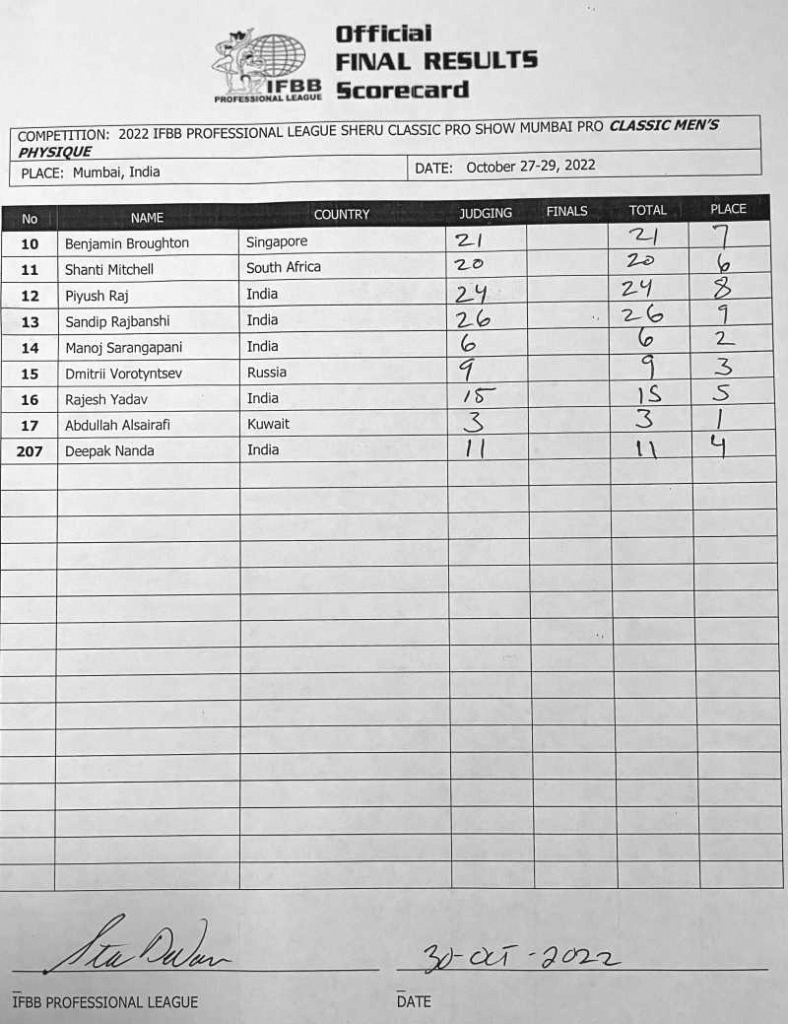 Congratulations to the all Champions of Sheru Classic Mumbai Pro India.