Bodybuilding requires intense training, strict dieting, and youthful resilience to recover. Competing at an elite level may seem impossible beyond your physical prime. However, the incredible bodybuilders on this list shatter that notion.
Ranging from 59 to 90 years old, these masters of sculpted muscle prove that with the right mindset and consistency, age doesn't have to limit your physique achievements.
Rusty Jeffers – Still Going Strong at 59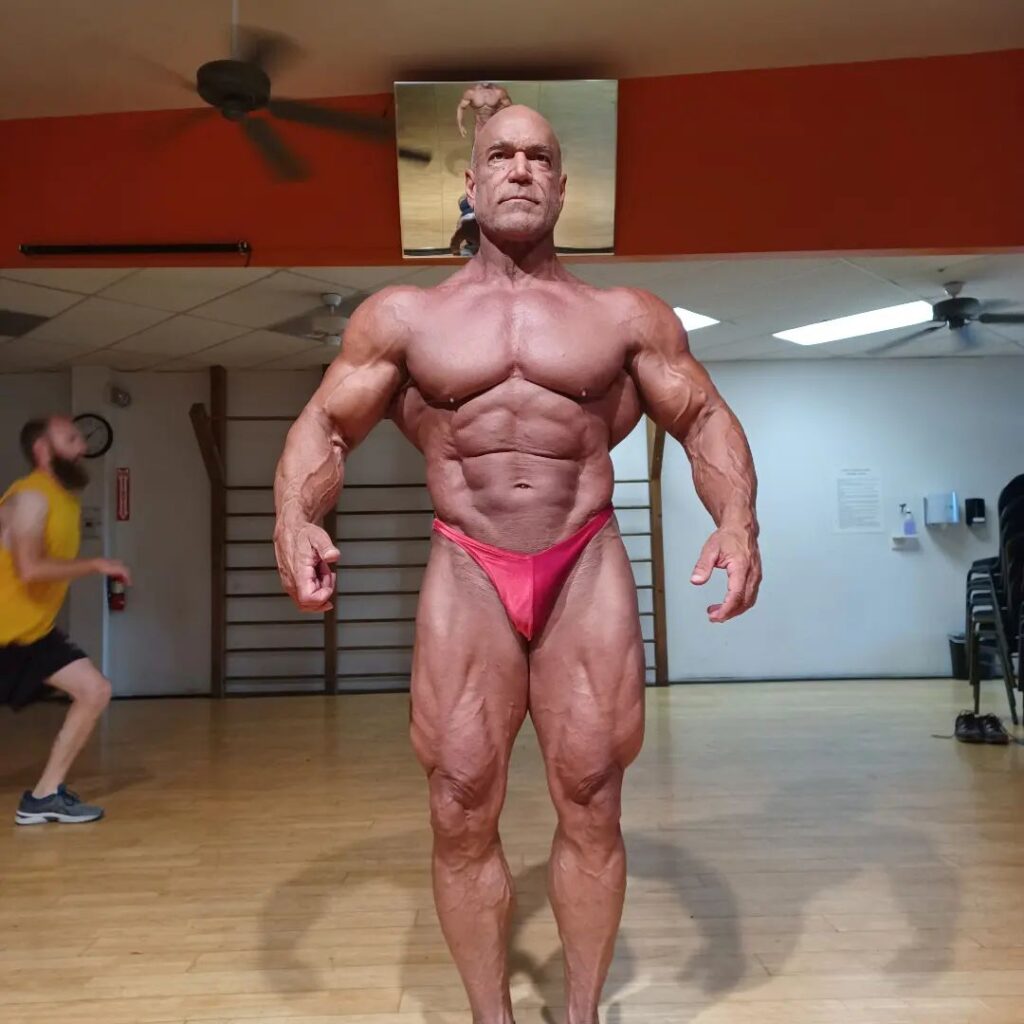 Rusty Jeffers is an American IFBB pro who continues to amaze in his 50s. Now 59, Jeffers holds an estimated net worth between $1-5 million from bodybuilding competitions and related modeling and acting gigs.
Rusty Jeffers first caught the iron bug at just 12 years old, entering his first competition at 14. By 17, he earned his first title, winning three straight years at the teenage Arizona state championships.
After dominating the amateur ranks, Rusty Jeffers turned pro by winning the 2004 Masters Nationals heavyweight and overall crowns.
Despite being a veteran, Rusty Jeffers maintains fantastic shape through diligent training. He knows consistency over decades is critical to defying age. Rusty Jeffers now helps others realize their fitness potential as certified personal trainer.
Svetozar Nikacevic 'Kika' – Powerlifter Turned Bodybuilder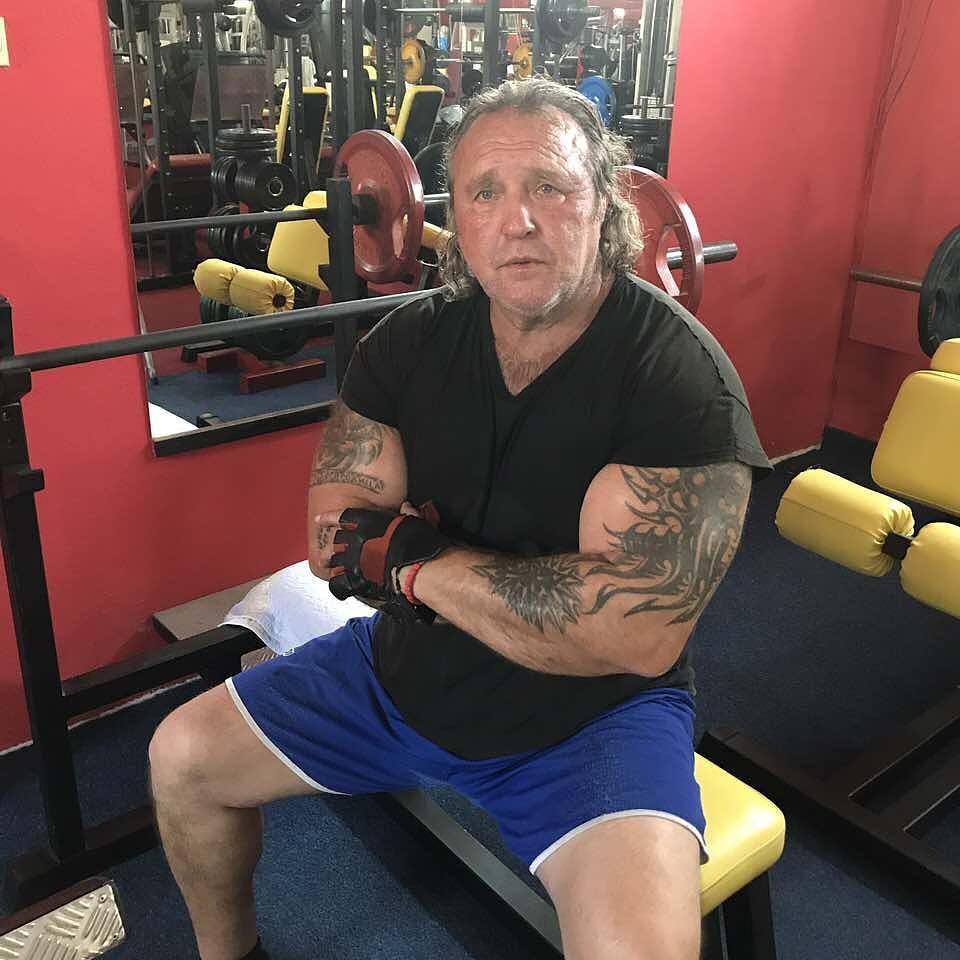 Hailing from Montenegro, 68-year-old Svetozar Nikacevic, aka 'Kika,' took up bodybuilding later in life. Kika said he only began weight training around age 30 after a football injury ended his sports career.
Although starting late, Kika's experience in power sports allowed him to thrive in bodybuilding.
He sports an intimidatingly giant frame built for moving max weight. Kika earned professional status and continues exhibiting jaw-dropping mass into his 60s through heavy lifting and adequate nutrition.
Andreas Cahling – 71-Year-Old Vegan Bodybuilder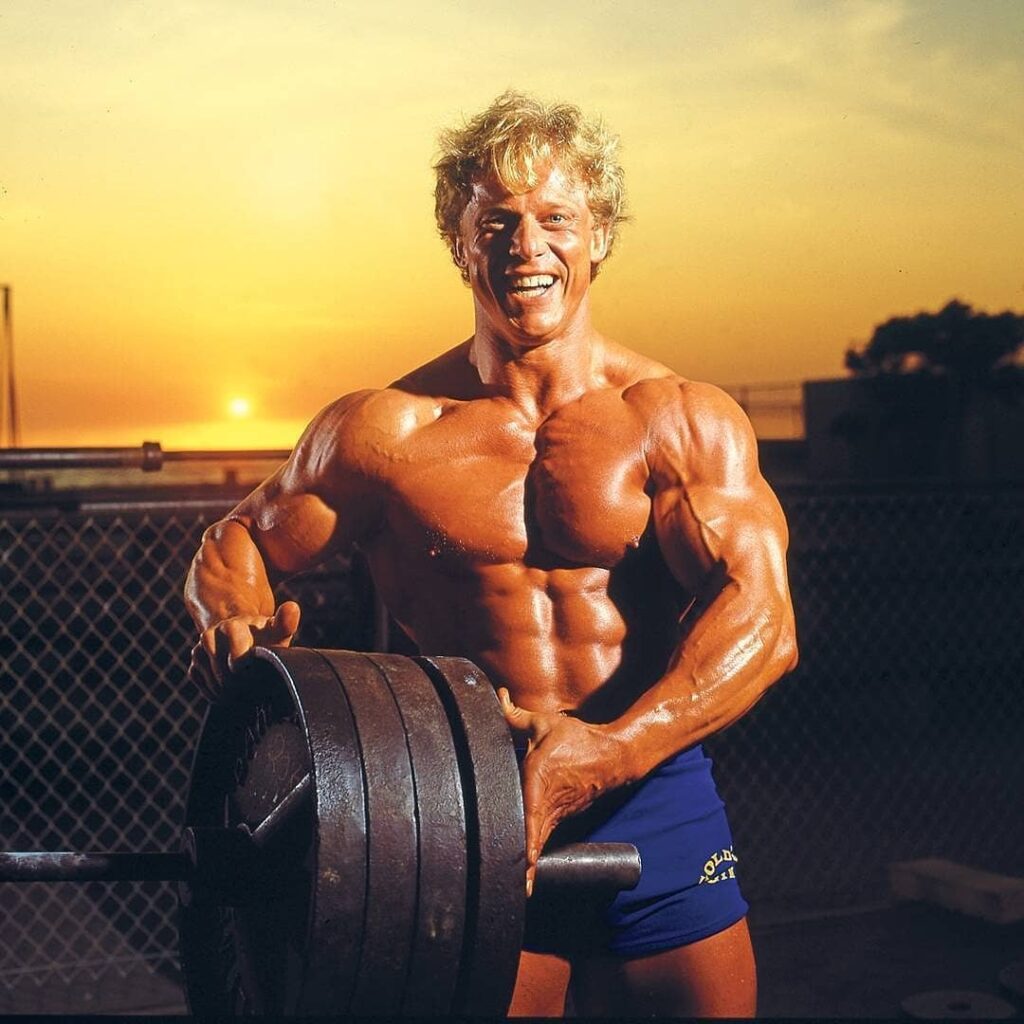 Andreas Cahling proves you don't need animal protein to build an awe-inspiring physique. The 71-year-old Swedish bodybuilder has maintained elite size and conditioning for decades on a vegan diet.
Cahling turned pro by winning the NABBA Mr. Universe in 1980. He authored an influential book detailing his plant-based nutrition and training philosophies.
Though past his prime today, Cahling stays passionate about fitness and motivates others to reach their potential through clean eating and hard training.
Robby Robinson – 76-Year-Old Breaking Barriers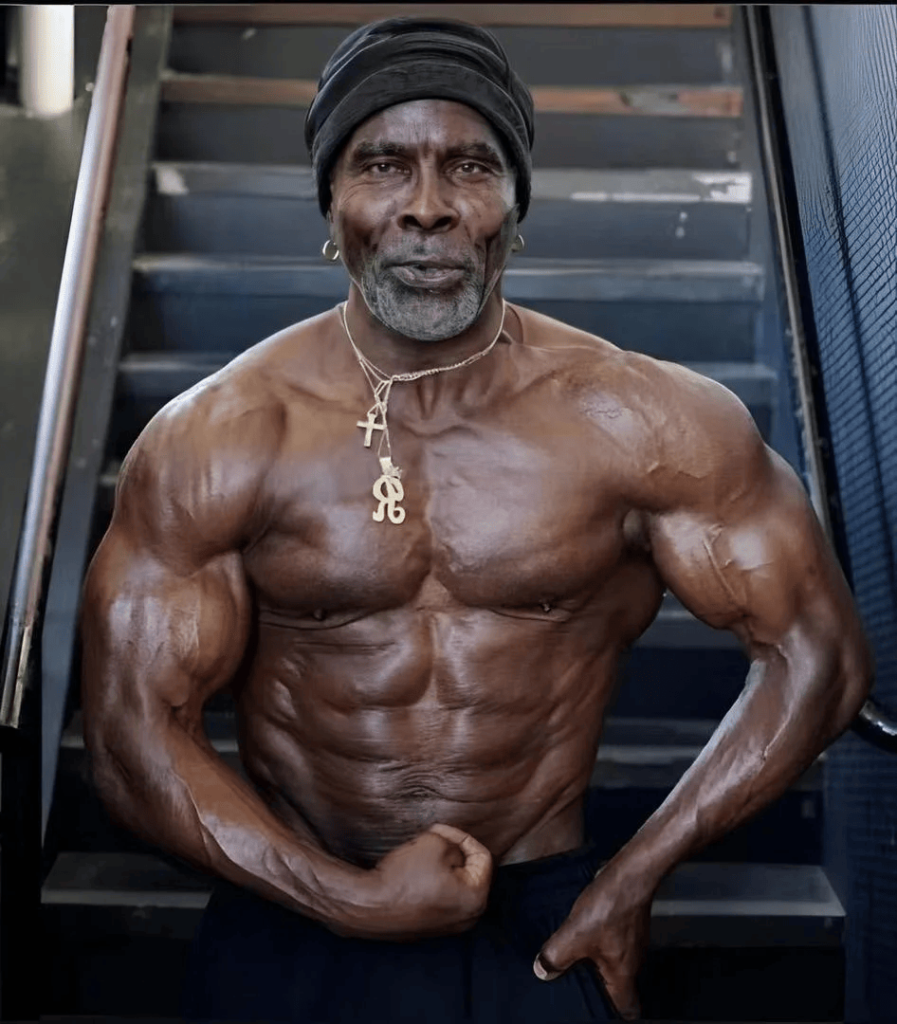 Legendary Robby, 'The Black Prince' Robinson, battled racism early in his career during the 1970s. But the 76-year-old overcame discriminatory judges to become one of the sport's first successful African American pros.
Beyond these barriers, Robby Robinson sculpted a groundbreaking aesthetic physique that earned him the Mr. Lifestyle nickname.
Even today, his flowing lines and dramatic poses inspire current champions. While passing his competitive peak, Robby Robinson trains daily and makes guest appearances.
Few have matched his longevity, winning Masters Olympia and multiple Masters Pro shows into his 50s.
Sam Bryant – Started Bodybuilding at 44, Now 76
Sam Bryant didn't begin training until age 44, yet became a renowned Masters competitor. Now 76, Bryant credits bodybuilding with helping him through a stressful divorce.
Standing 5'10" and weighing around 175 pounds, Bryant fell in love with pushing his body to the limit.
He committed fully to the lifestyle, entering contests for motivation. Bryant quickly made up for lost time, claiming a Masters Mr. America title.
Seeing his rapid success, Bryant dug deeper into bodybuilding science to continually refine his physique. He plans to step back on stage soon to show he's still making progress after 30+ years of hard work.
Bill Grant – 77 Years Old and Still Competing
Bill Grant personifies dedication, competing for over 50 years since first stepping on stage at 20. Now 77, Grant overcame a skinny frame thanks to a tireless work ethic.
Grant didn't win every show starting he was often placed middle of the pack. But he persevered and improved his physique through continued meticulous training.
This determination led Grant to claim prestigious titles like Mr. World and Mr. International in the 1970s and 80s.
Far from retiring, Grant maintains awe-inspiring shape and size, coaching clients and entering the occasional Master's contest. He's proof hard work trumps genetics.
Arthur Peacock – Surviving Cancer and Still Lifting at 85
Arthur Peacock, 85, sets a fantastic example of overcoming major health scares to keep achieving. The octogenarian has battled heart attacks, various cancers, and hip surgeries.
But not even these life-threatening conditions could force Peacock to hang it up. Peacock won a phenomenal 55 titles in his 50+ year competitive career. He's a testament to the mental resilience required in bodybuilding.
Despite his age, Peacock trains almost daily to maintain the imposing shape that earned him widespread fame.
Dr. Jeffery Life – From Overweight to Jacked at 85
Before bodybuilding, Dr. Jeffery Life was overweight with high cholesterol and pre-diabetes. But by committing to diet and exercise at 61 years old, Life transformed his health and physique. Now 85, he's a shredded, muscular inspiration.
Life incorporated his medical expertise into crafting nutrition and training plans that allowed him to defy aging—his dramatic before and after photos launched Life into motivational speaking and writing.
He aims to convey that there is always time to take control of your fitness, health, and overall well-being.
Ernestine Shepherd – Record-Holding Competitor at 87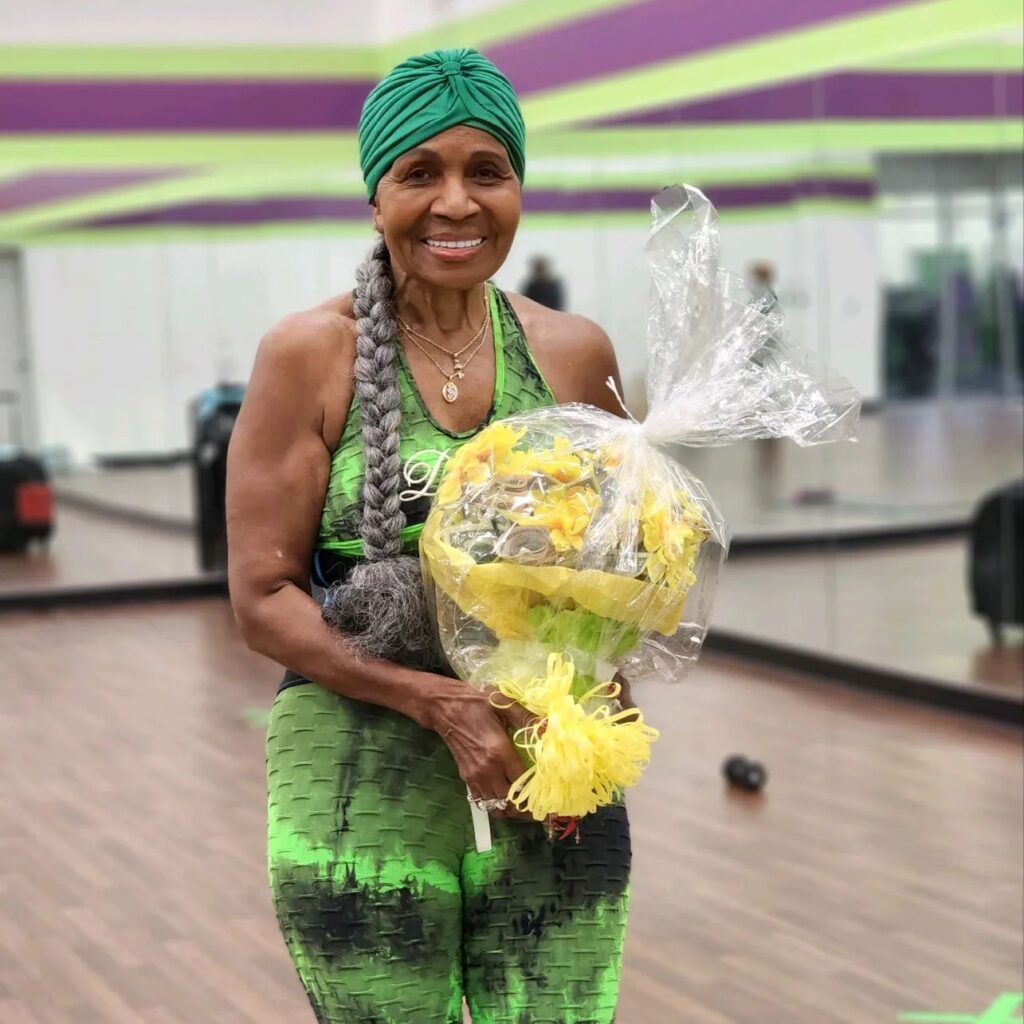 Look no further than Ernestine "Ernie" Shepherd for the ultimate inspiration. At 87 years young, Shepherd holds the Guinness World Record for oldest professional female bodybuilder.
She first broke the record at a competition in Rome at age 77. Shepherd grew up sedentary, working as a secretary before revamping her lifestyle at 56.
She gradually stuck to a steady regimen of training, cardio, and meal prepping to sculpt a head-turning figure in her 70s. Shepherd proves you can reshape your body and life at any age.
Jim Arrington – Still Breaking Records at 90
Our final entry is 90-year-old Jim Arrington, the current Guinness record holder for the world's oldest competitive male bodybuilder. Arrington was ultra-skinny growing up but took up weight training after finding inspiration in muscle magazines.
He sharpened his physique over years of determined training and healthy eating. Arrington competed in 60+ shows through his 80s, claiming 16 Masters titles.
At 83 years old, he set the prestigious world record. But more records may fall as Arrington continues training daily.
The Takeaways
This awe-inspiring group of bodybuilders proves that age doesn't have to limit your capabilities. Anyone can begin transforming their fitness and physique, even in their 50s, 60s, 70s, and beyond.
It simply requires embracing a growth mindset to challenge yourself continually. Here are some key lessons:
It's always possible to start training and set ambitious fitness goals. Several began their journey later in life. Consistency over decades is vital. Their sustained effort allows them to defy aging.
Don't let setbacks like injuries or diseases stop your progress. Maintain a resilient mindset. Ignore naysayers and societal limits. Define your capabilities through self-belief.
Refine your training and nutrition over time. Experience leads to more innovative programming. Find inspiration through fitness idols. Let their example motivate you daily.
While their bodybuilding journeys started at different ages, they all share a tireless work ethic. This allowed them to keep improving despite life's obstacles and the passing years.
Undoubtedly, their stories will continue inspiring others to achieve their greatness in the gym and beyond.