Mike Sommerfeld is a renowned German bodybuilder who has significantly impacted the bodybuilding industry. He competes in the Men's Classic Physique against the best bodybuilders in the world, like Chris Bumstead, Ramon Dino, Urs Kalecinski, and Breon Ansley.
Mike Sommerfeld Early Life
Mike Sommerfeld was born on 19 April 1994 in Heidelberg, Germany. He developed a passion for bodybuilding at a young age and made his first entry into the amateur bodybuilding competition in 2014.
This competition marked the beginning of his journey to becoming one of the most prominent bodybuilders in the world.
Mike Sommerfeld Bodybuilding Career
In 2014, Sommerfeld participated in the Arnold Classic Europe amateur and impressed the audience with his impeccable physique, finishing in third place. This competition was a stepping stone for Sommerfeld, who continued to train and refine his skills, honing his physique to perfection.
In 2019, Sommerfeld took the next big step in his career by competing in the IFBB pro league. He made his debut at the Romania Pro, where he participated in the Men's bodybuilding category up to 212lbs. Despite being a newcomer in the pro league, Sommerfeld made a strong impression and finished in 13th place.
In 2021, Sommerfeld made a strong impression on the bodybuilding world with his outstanding performance, consistently placing high in contests such as the Xtreme Bodybuilding and Fitness Pro and Poland Pro Supershow. His hard work and dedication paid off when he secured a first-place win in one of these events.
Sommerfeld's skills and accomplishments were not overlooked, as he was soon recognized as a top competitor in the men's classic physique category.
In 2021, Sommerfield was invited to participate in the Mr Olympia contest, a prestigious event where the world's best bodybuilders gather to compete and showcase their strength and physique.
In his first appearance at Mr Olympia, he placed 7th, which was a great accomplishment for a first-time competitor. In 2022, he improved his ranking and placed 5th, demonstrating his steady improvement in the sport.
Mike Sommerfeld is a well-respected bodybuilder known for his dedication, hard work, and passion for bodybuilding. He continues to train and compete, inspiring others with his impressive physique and unwavering commitment to bodybuilding.
Mike Sommerfeld Contest History
2022, IFBB Olympia, Men's Classic Physique, 5th
2021, IFBB Poland Pro Supershow Men's Classic Physique, 1st
2021, IFBB Olympia Pro, Men's Classic Physique, 7th
2021, IFBB Xtreme Bodybuilding & Fitness Pro, Men's Classic Physique, 1st
2020, IFBB British Grand Prix Pro, Men's Classic Physique, 2nd
2020, IFBB Europa Pro, Men's Classic Physique, 3rd
2019, IFBB Dennis James Classic Pro, Men's Classic Physique, 2nd
2019, IFBB Romania Pro, Men's Bodybuilding – up to 212 lbs, 13th
2016, IFBB Arnold Classic Europe Amateur, Men's Bodybuilding – Juniors, 3rd
2014, IFBB Arnold Classic Europe Amateur, Men's Bodybuilding – Juniors, 3rd
Mike Sommerfeld Body Measurements
| | |
| --- | --- |
| Mike Sommerfeld Height | 5 Feet and 6 Inches |
| Mike Sommerfeld Weight | 120 to 125 KG |
| Mike Sommerfeld Age | 29 Years |
| Mike Sommerfeld Date of Birth | 19 April 1994 |
| Mike Sommerfeld Arm Size | 18 Inches |
| Mike Sommerfeld Chest Size | 48 Inches |
| Mike Sommerfeld Waist Size | 31 Inches |
| Mike Sommerfeld Nationality | German |
Mike Sommerfeld Net Worth
Mike Sommerfield is a professional bodybuilder with an estimated net worth of $500,000, earned through competition winnings, sponsorships, and personal endeavours. His net worth reflects his success and dedication to bodybuilding, and it is likely to continue to grow.
Mike Sommerfeld Wife
Mike Sommerfield is engaged to Shani, a successful bikini fitness athlete who won the Ms Riviera Maya Bikini contest. Their relationship as a fitness power couple shows mutual support and motivation in their dreams.
Their engagement showcases their love and commitment to each other, and their success in the fitness world is an inspiration to others.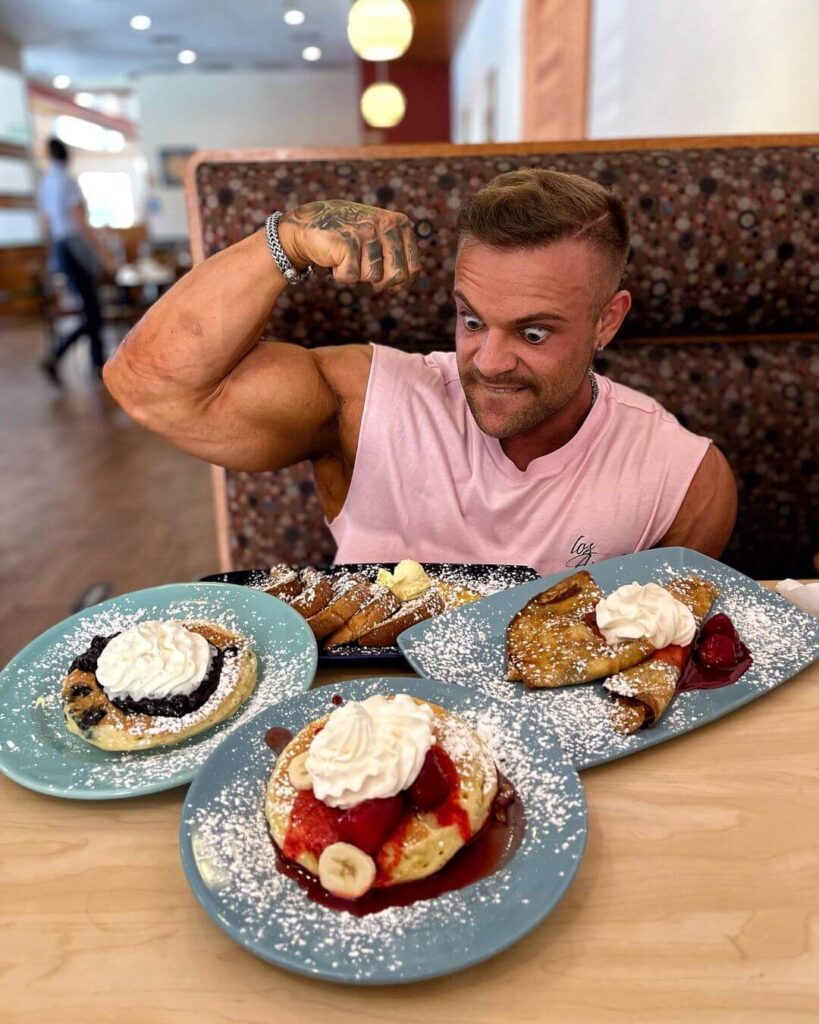 Mike Sommerfeld's diet plan is based on his goal to maintain his physique as a professional bodybuilder. As a meal prepper, he prepares all of his meals for the week in advance.
His diet primarily consists of a generous portion of beef and chicken, which he minces before cooking. He is conscious of his oil intake and uses a spray bottle to ensure that he doesn't use too much oil.
Sommerfeld uses pink Himalayan salt in seasoning, which he believes has added health benefits. He follows the advice of his trainer on his diet and nutrition, making sure to listen to the expert guidance he receives to help him reach his goals.
Here is a sample of Mike Sommerfeld's diet plan:
1st Meal
4 Egg Whites
1 whole Egg
100g of Oatmeal
1 Piece of Fruit
2nd Meal
150g of Chicken Breast
100g of Brown Rice
100g of Steamed Vegetables
3rd Meal
150g of Beef
100g of Sweet Potato
100g of Steamed Vegetables
4th Meal
Greek Yogurt
Protein Shake
Rice Cake with Nut Butter
Mike Sommerfeld Training
Mike Sommerfeld believes that the muscle-mind connection is the most important aspect of bodybuilding. He emphasizes the importance of getting into the right mental state for training to help achieve this connection. To help focus, he uses headphones without playing music and closes his eyes during exercise sets.
His training routine focuses on proper muscle activation and exercise form to achieve the muscle-mind connection. He believes that if you can properly train the muscle you are trying to exercise, the weight you are pushing becomes less important.
Sommerfeld also offers to coach others who want to improve their bodybuilding or lose weight. During these sessions, he heavily emphasizes teaching people to achieve the muscle-mind connection, helping them properly activate their muscles and focus on their movements.
Here is a sample of Mike Sommerfeld's training routine:
Day 1
Chest & Triceps
Bench Press
Dumbbell Flyes
Skull Crushers
Close Grip Bench Press
Cable Pushdowns
Day 2
Back and Biceps
Deadlifts
Lat Pulldowns
Barbell Rows
Dumbbell Bicep Curls
Cable Hammer Curls
Day 3
Legs and Shoulders
Squats
Deadlifts
Leg Press
Dumbbell Overhead Press
Lateral Raises
Day 4
Rest