Vitaliy Ugolnikov, also known as "Good Vito," is a bodybuilder who has gained significant momentum in the fitness industry despite not yet being invited to the prestigious 2023 Mr. Olympia competition.
In a recent Bro Chat Podcast, renowned bodybuilders Iain Valliere and Fouad Abiad discussed Good Vito's potential in the IFBB Pro League and his chances against other Olympia contenders.
This article explores Ugolnikov's journey, unique physique, experts' opinions, and prospects for success in upcoming competitions.
A Promising Entrance
Ugolnikov made a splash upon entering the bodybuilding scene, transitioning from the IFBB Elite Pro League to the NPC (National Physique Committee) last year, following a similar path as Michal Krizo.
His impact was immediately felt as he secured his IFBB Pro card at the 2022 Muscle Contest International Brazil Nationals.
During the event, Vito showcased an impressive combination of mass, conditioning, and fullness, captivating audiences with his phenomenal physique.
Distinctive Physique and Online Hype
His massive arms and quads set Good Vito apart from his peers, garring significant online attention. His physique has gone viral due to his remarkable progress, further fueling the hype around him.
With his growing popularity over the past few months, fans eagerly support him as a legitimate dark horse contender for the Olympia, assuming he earns his well-deserved invitation.
Preparation and Progress
Ugolnikov is diligently preparing to bring his best to the 2023 European Pro Championships. In addition to sharing progress videos and photos, Vito has kept his fans engaged by showcasing his posing routines.
He shares his journey through these updates, building anticipation for future performances.
Expert Opinions: Valliere and Abiad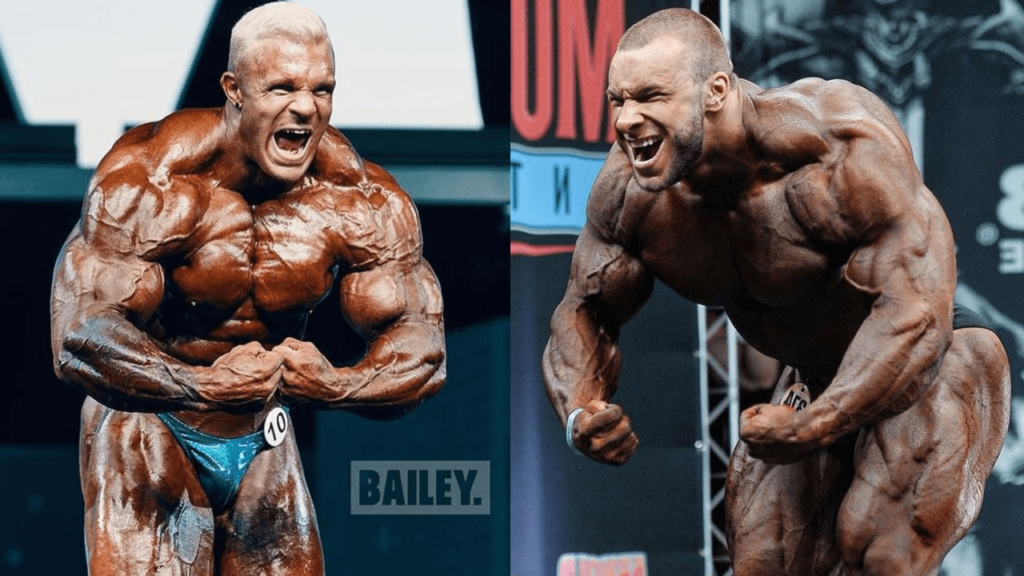 Iain Valliere and Fouad Abiad discussed Good Vito's potential in the Bro Chat Podcast. According to Valliere, bodybuilders in North America are apprehensive about competing against him, acknowledging his exceptional physique and potential on stage.
Abiad compares Vito's build to Hadi Choopan, another renowned bodybuilder. While Valliere and Abiad believe that Vito needs to strengthen his back, they also emphasize that having a slightly shallower back doesn't undermine his ability to compete with the top athletes.
Vito's conditioning and back development are critical areas for improvement if he wishes to stand alongside the best in the industry.
Earning the Olympia Invitation
To secure a spot in the 2023 Olympia, Vito must win a professional show. If successful, Abiad believes he can pose a significant threat to the established contenders, particularly with enhanced conditioning.
Valliere also comments on Vito's posing, suggesting certain adjustments to highlight his physique better.
Acknowledging Vito's remarkable legs and muscularity, both experts agree that he could be a dark horse at the 2023 Olympia if he earns his invitation.
Anticipation and Rising Star Status
Despite yet to compete on the IFBB Pro League stage, Vito's presence has already generated considerable buzz.
In a recent video, bodybuilding judge Terrick El Guindy identified Ugolnikov as one of the rising stars in the Open category.
Former bodybuilder Chris Cormier commended Good Vito for his youth and potential, predicting that he would shake up the class.
While accusations of doctored or photoshopped pictures have circulated online due to his impressive physique, Vito has debunked these allegations with a follow-up video, reaffirming the authenticity of his progress.
Future Prospects
Although Good Vito has yet to make a significant impact in North America, it is evident that he possesses the potential to shine on the sport's biggest stages.
With his dedication, unique physique, and the support of experts and fans alike, it seems only a matter of time before he establishes himself as a formidable force in the bodybuilding world.
Vito has until October 9 to earn his invitation to the highly anticipated 2023 Mr. Olympia competition. Iain Valliere has already qualified following his victory against Hassan Mostafa at the recent Toronto Pro Supershow in June.
The Takeaways
Vitaliy "Good Vito" Ugolnikov is a rising star in the bodybuilding industry, attracting attention for his exceptional physique and potential.
Despite not yet being invited to the 2023 Mr. Olympia, Vito's journey, distinctive shape, and the opinions of experts like Iain Valliere and Fouad Abiad indicate that he is a dark horse contender to watch out for.
With his continued dedication, improvements in conditioning, and a focus on strengthening his back, Good Vito has the potential to disrupt the status quo and make his mark on the bodybuilding world shortly.