Arnold Classic Open Men's Prejudging Results
The 2021 Arnold Sports Festival is occurring now from inside the Greater Columbus Convention Center, Ohio, USA.
Last year's Men's Open bodybuilding Arnold Classic winner was William Bonac "The Conqueror" against the five-time champion "The Blade" Dexter Jackson.
This year defending champions Alex Cambronero, Missy Truscott, and Elisa Pecini will defend their titles. There are a couple of other competitors who could take the title. This year is going to be an exciting one, and we can't wait for the final.
The competitors are back at it again at the Arnold Classic 2021 championship. Being one of the most prestigious competitions in bodybuilding, the best athletes and the bodybuilders and women battle in Columbus for the prize money of $412,000.
The Arnold Classic 2021 does not emphasize divisions like Men's Physique but will feature Men's Open, Classic Physique, Women's Bikini, and Women's Fitness.
The defending champions will protect their titles, so the title is up for grasp for the open division contenders. Alex Cambronero, Missy Truscott, and Elisa Pecini all look to maintain their titles today.
Every competitor was introduced, and numerous comparisons were made so judges can judge who has the best conditioning and brought the full package.
Here is the final call-out report from all the divisions of Arnold classic 2021. See the top names who will be fighting for the title in the finals.
2021 Arnold Classic Bodybuilding Callouts: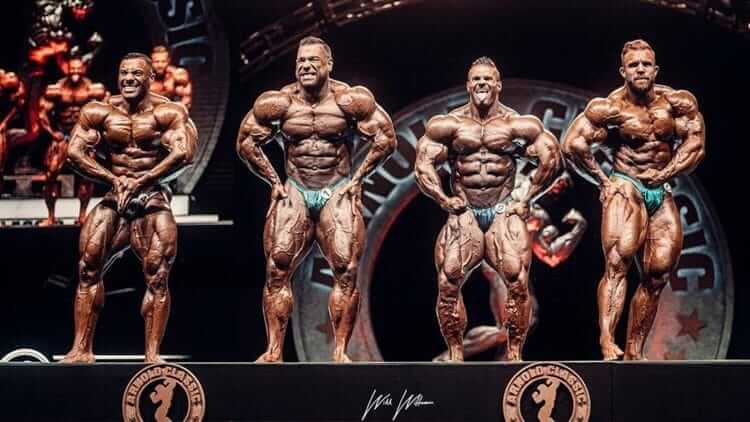 First Callout
Justin Rodriguez
Iain Valliere
Second Callout
Akim Williams
Sergio Oliva Jr.
Maxx Charles
Hassan Mostafa
Seung Chul Lee
Mohamed El Emam
Third Callout
Akim Williams
Sergio Oliva Jr.
Iain Valliere
Justin Rodriguez
Final Callout (Top 3)
2021 Arnold Classic Physique Callouts:
First Callout
Courage Opara
Fabian Mayr
Alex Cambronero
Logan Franklin
Second Callout
Jarek Crew
Peter Molnar
Tony Taveras
Dani Younan
Final Callout (Top 4)
Courage Opara
Alex Cambronero
Logan Franklin
Terrence Ruffin
Third and Finall Call Out
Alex Cambronero
Logan Franklin
Courage Opara
Terrence Ruffin
2021 Bikini international Callouts:
First Callout
Jennifer Dorie
Ashley Kaltwasser
Lauralie Chapados
Elisa Pecini
Second Callout
Jourdanne Lee
Gabriella Messias
Jasmine Gonzalez
Priscila Leimbacher
Breena Martinez
Romina Basualdo
Final Callout (Top 3)
Jennier Dorie
Lauralie Chapados
Elisa Pecini
2021 Fitness International Final Callout:
First Callout
Jaclyn Baker
Minna Pajulahti
Ariel Khadr
Missy Truscott
Second Callout
Oksana Grishina
Darian Borrello
Sally Kendall-Williams
Aurika Tyrgale
Third Callout (Top 2)
Missy Truscott
Ariel Khadr